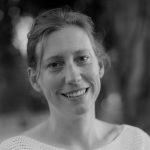 Postdoctoral Fellow (Jan 2016 – Dec 2019)
Mieke is from The Netherlands where she completed a BSc in psychology at the Radboud university and an MSc in psychology at the university of Amsterdam. She next completed her PhD training in the lab of Prof. Roshan Cools at the Donders Institute for Brain, Cognition, and Behaviour. During her PhD she used a number of techniques, including genetics, brain imaging (fMRI), brain stimulation (TMS), and pharmacology to study how rewards can alter cue-guided cognitive flexibility. During this period she obtained an interest in translational research and spent a year as a visiting researcher in the laboratory of dr. Bernard Balleine, at the university of Sydney, Australia.
Mieke's current work in the Floresco lab focusses on how dissociable regions of the prefrontal cortex, the striatum and amygdala are involved in cue-guided behaviour in the context of risky decision making.