EDUCATION
B.Sc. (Psychology) – University of British Columbia (1994)
Ph.D. (Psychology) –  University of British Columbia (2000)
Post Doctoral Fellow- University of Pittsburgh (2000-2003)
Maric's research interests include the neurobiology of addiction and schizophrenia. He mainly uses electrophysiology and behavioural approach to study various models of the disorders. Maric first became interested in dopamine-related disorders while studying neurobiology of motivation and sex in the laboratory with Dr. Jim Pfaus (Concordia University). Under the guidance of Dr. Stan Floresco, Maric expanded his training on the role of dopamine in the cognitive system. Outside of the lab, Maric enjoys any water sport that involves the ocean.
Gemma Dalton is originally from a small town in rural Ireland, receiving her BSc from Queen's University of Belfast, MSc from the National University of Ireland, Galway, and PhD from the University of Sussex. She works as a research associate with Dr. Anthony Phillips and has been working on a number of collaborative projects with the Floresco lab. Gemma has been here so much that the lab has graciously given her an office and most members of the lab actually think she is in the Floresco lab full time. Her work uses cognitive assays developed in the Floresco Lab to investigate the potential antipsychotic efficacy of some novel compounds that may change neuroscience as we know it. She is super happily married to an awesome guy who hails from Vancouver. Together they have a 5 year old daughter who has inherited every bit of her father's unreserved sociability and tenacity.
Courtney Bryce is originally from Saskatoon, Saskatchewan where she received her BA with honors in Psychology from the University of Saskatchewan in 2013. Her honors thesis, under the supervision of Dr. John Howland, focused on how acute stress influences cognitive flexibility. She is currently a Master's student in the Floresco lab and her present research involves elucidating the neural mechanisms mediating the influence of acute stress on effort-based decision-making.
Nicole was born and raised in North Vancouver and completed her BSc in Psychology at UBC. She was extremely fortunate to have crossed paths with Dr. Floresco during her undergraduate degree, and is very excited to be pursuing a Master's degree in the same lab.  Nicole's research during her undergraduate studies focused on characterizing cortico-striatal and amygdalar circuits that control different aspects of cost/benefit decision making—specifically decisions related to reward uncertainty, or risk.
Debra is from Montreal where she completed her BSc at McGill University working with Dr. Jonathan Britt. Debra's current project in the Floresco lab involves dissecting the neural circuitry behind risk/reward-based decision making by optogenetically manipulating neural pathways within the mesocorticolimbic system.
Jackson is originally from Columbus Ohio and completed his BS in neuroscience at The Ohio State University. At OSU, he worked with John Bruno investigating how embryonic and adolescent exposure to heightened levels of the endogenous metabolite kynurenic acid resulted in schizophrenia-like cognitive and neurochemical deficits in adulthood. His masters project will focus on the role of dopamine in the PFC in mediating cue-guided cost/benefit decision making.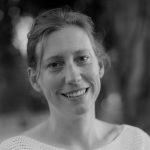 Postdoctoral Fellow (Jan 2016 – Dec 2019)
Mieke is from The Netherlands where she completed a BSc in psychology at the Radboud university and an MSc in psychology at the university of Amsterdam. She next completed her PhD training in the lab of Prof. Roshan Cools at the Donders Institute for Brain, Cognition, and Behaviour. During her PhD she used a number of techniques, including genetics, brain imaging (fMRI), brain stimulation (TMS), and pharmacology to study how rewards can alter cue-guided cognitive flexibility. During this period she obtained an interest in translational research and spent a year as a visiting researcher in the laboratory of dr. Bernard Balleine, at the university of Sydney, Australia.
Mieke's current work in the Floresco lab focusses on how dissociable regions of the prefrontal cortex, the striatum and amygdala are involved in cue-guided behaviour in the context of risky decision making.
Giulia was born in Italy and completed her BSc in Neuroscience with Psychology and Biobusiness at the School of Medical Sciences at the University of Aberdeen, Scotland. Her undergraduate research focused on treatments for spinal cord injury and neuropathic pain.
For her graduate studies with Dr. Floresco, Giulia is investigating how subregions of the PFC are involved in active and inhibitory avoidance behaviours and the role of dopaminergic transmission in conditioned fear expression.
Meagan grew up in a small town in interior BC, called Sparwood, which is known for being the home of the world's largest mining truck. Since that time, she has lived in such diverse and beautiful cities as Victoria, Montreal, London (the English one), and Lethbridge, Alberta. Meagan currently resides in her favourite place in the world, East Van. Her research centers on how prefrontal circuits malfunction in psychiatric disorders, especially in schizophrenia.  In her Masters, she studied how the UNC5C netrin-1 receptor contributes to the development and function of the mesocorticolimbic dopamine system, and how alterations in the expression of this receptor may be involved in psychopathology. Meagan's graduate work focussed on how prefrontal GABA hypofunction contributes to impairments in working memory, social behavior, and other cognitive and behavioral aspects of schizophrenia.